The fake mustache trend showed up on the runway in 2008. Who would have thought that four years later, the accessory would still tickle both our fancy and our upper lip? My girlfriends and I got together last weekend for an annual pillow fight. Once in a blue moon, we kick our husbands, kids, and cats to the curb for a night of girl bonding. One of the ladies surprised us with a package of adhesive facial hair and the next thing we knew, stars were born.
We went on a magic mustache ride; a journey right up there with the one time I declined a proposition to join the mile high club. Each of us, stood up from cozy bar stools and became thespians. Before we could control what was happening, we were all acting like guyz. "Yo, whad up with the sushi?"
How bout' a beef sammie, make it wet. Why I outta call Freddie, he's got the best salami.You always get an extra couple of inches of meat from dat guy."
My mustache stopped being sticky after a few paparazzi shots. WARNING: champagne and fake mustaches don't mix. So us gals moved on to bigger and better fun. Ladies, when you bond, let it all hang out!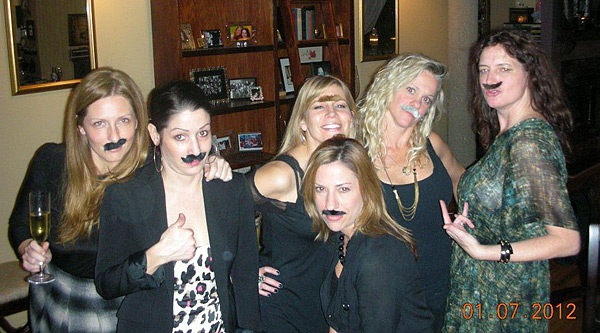 I've found that the older I get, the more I learn about having fun. So, if you are hosting a ladies night, or  are an attendee, I recommend that you bring the right props. Here are the ingredients for a great girlie get together:
The menu should be light nibbles. Think small plates and appetizers. If you've got the buckage, sushi and cupcakes make an impressive spread. To help with the cost of the bar bill, guests should bring something to complement what the host plans to serve as a signature drink … and I'm not talking about a straw. My gals love the bubbly, so we each had a bottle of champagne in tote. It can be a lot of fun, tasting different sips from the variety of bottles. A tasting that lasts for hours and hours.
To create a great vibe, music is vital. Never play the Eagles or country-western (yes, despite the current line-dancing craze) unless you want everyone to leave. Instead, sneak a peek at Facebook, and look up the guest's profiles. Under the music section,  jot down what bands they like and create a custom mix based on their tastes. At the last party, we heard Arcade Fire, R.E.O. Speedwagon, Florence and the Machine, Rihanna, and Lady GaGa. The mix was perfect.
Although there is never a lull when my amigas gather, I recommend having some no-brainer amusements. There is usually someone in the crowd who reads tarot cards to add mystery, intrigue and drunken stupidity. Mad Libs, question games, and even reading old high school diaries are hilarious. For those who stay late, bring out the moose munch and watch Bridesmaids. How can you go wrong?
See, this is why the guys stay home, cuz if they were at this party they'd really be taking one for the team. To think all this time, they thought we were talking about sex and having pillow fights in our panties. Hmmm … I guess that's more sexy then the thought of a group of grown women acting out an 8th grade slumber party. Or is it?