It was Friday, close to 5 pm and I'd  had a long day wrestling mannequins. Like most Americans. I was ready to celebrate my happy hour.  Buttoned up and ready to fly at 5 pm, I headed to my friend Michelle's closet, where I knew there would be plenty of booze and LOADS of eye candy. It was a jouney trecking to her place. I felt as through I was headed down a long and sinuous dirt road in a horse and buggy. I was ever so thirsty…and finally I arrived.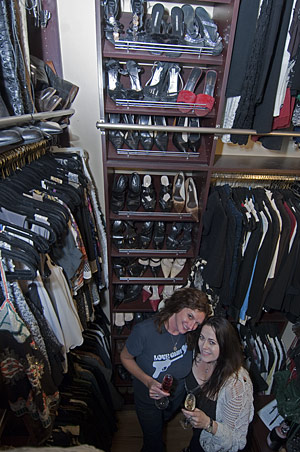 Michelle opened the door looking fabulous in Prada shoes, leggings, a Donna Karen top and a crochet knit sweater. I was wearing an old Penguin t-shirt, Not Your Daughters Jeans (note, these have a tummy tuck feature to hide your PBR gut). On my feet were the standard Puma sneakers, and around my wrist, a bracelet that I stole from my friend Moni when she was drunk.
We walked into her well organized, beautifully stocked closet and popped a bottle of Moet White Star Champagne. The custom closet designed by Closet Works, includes  mahogany shelves, and traditional library ladders. All the hangers match. The ceiling stretches up to an impressive 18 foot high where a fairy-tale crystal chandelier dangles and lights up the room. Every squre inch of the grand space is filled with well organized frocks. I feel like I'm in heaven surrounded by her shoes, boots, cashmere sweaters, designer gowns, and coats. It's very oooh-lah-lah dahling!
Taking all this in required more bubbly. I popped open another bottle of champagne because after being there 15 minutes, I'd polished off the first.  No, my eyes weren't blurry, I really was standing in a closet that contained some of the worlds best designed clothing, and accessories. It was like being in a gallery for anyone who appreciates fashion. She collects clothes and accessories….beautiful art pieces from world travels, family heirlooms, Neiman Marcus fab finds and way more.  She's a well-healed shopper, but loves a bargain basement find.  She reaches deep into the racks and extracts a sequenced top from All Saints and a sweater dress from Target.
Nice, but I'm hardly interested when I've got the threads of Missoni, Prada, Burberry, Dolce and Gabbana, and Alice and Olivia wrapped around my little finger.  Too bad I can't go shoplifting here because nothing is in my size. Besides, Michelle is my friend. This little lady may be into her shopping therapy, but this doesn't make her selfish (that would be me, as I polish off the last of the champagne). A favorite charity that she contribues towards is, "Dress for Success" a non-profit committed to helping under privileged women find jobs and look smart. So, if you have any garments worth donating to a great cause, follow her lead! But for now it's time to leave this magnificent closet. My glass is empty!