It always happens when I'm on the beach. Some perfect girl has to ruin my sunny day and there she was.. all skinny, tan, and wearing the most fabulous tunic in the world. She sat right next to me and I immediately gained ten pounds. I tried not to stare, but it was soo hard. She had something I wanted.
"Okay, give it up…where did you get that tunic. It's fantastic…and please don't tell me the South of France or I will feed you to the sharks, " I asked.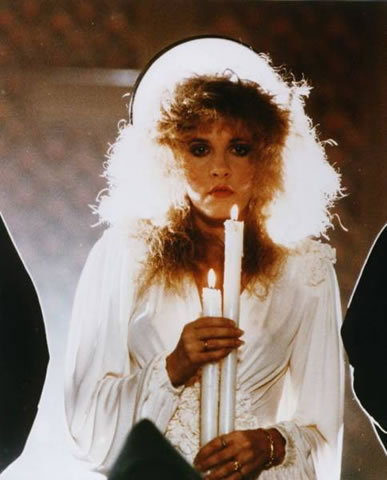 She glanced over her Gucchi sunglasses, looked me up and down, tossed back her head to giggle and after a terrible pause she said, "It's from Jen's Pirate Booty and it's called the Fleetwood Mac. I did the same thing as you to a girl on the beach in Miami…nearly knocked her down to find out about this top. You should get it!" she gushed.
(Cool and then we could be TWINSIES! and bffs. We could like totally go shopping). Except, now she was done with me..I was the peasant on the beach and her super hot, babe-a-licious, obviously rich boyfriend was massaging suntan oil all over her stupid, perfect body. So I sat there abandoned with my thoughts.
I was thinking, it is so strange that Fleetwood Mac is inspiring fashion. Suddenly the tunic became an instant reminder of Stevie Nicks and her truly epic outfits. This made me chuckle. Stevie Nicks, the consummate gypsy; she was like a witch without a broomstick. She refused to evolve into new style trends. Can you imagine if Stevie would have caved in the 80's and started wearing Izods and penny loafers? Stevie is someone who kind of created her own brand. She's never deviated from her style and could probably claim to have invented boho chic. Hands down, I'd give her the title.
That crazy witch! I bet she burned the Official Preppy Guide Book!
I sat back lapping up rays that were crisping my cellulite to golden perfection and wished that I could step inside Stevie's closet. What would I find? Feathers, lace, gauze…vintage cocaine! What did her child hood photos look like? Did she always wear black? Was she a witch? Did she wear pajama's, underwear? Did she skinny dip and think, screw a bathing suit? Did she prefer gold to silver? Did she have a cat who was black and she named it "Magic" and it wore a fancy turquoise collar? Was she a vegetarian. Did her bedroom have statin sheets, lots of pillows, candles and a scarf over a lamp? Who was her favorite designer?
Then I fell asleep. Woke up with the love bird neighbors gone. I checked out the Fleetwood Mac tunic on my smart phone and shit is it expensive. So sad. I won't be buying that any time soon. I had to think, "Won't you throw me a voodoo bone Ms. Nicks? I will take any of your hand me downs and rock my next beach party!"
And then next time some perfect girl will be all, "Okay, give it up where did you get that fabulous tunic?"
I would pause, create anticipation, toss back my head while laughing and say, "Oh, it's a little something that my friend Stevie Nicks gave me. Yep, we go way back! She has great style!"