If you're planning to exchange vows this year, don't pull a Kardashian. In the real world, with our empty piggy banks and flabby bellies, a wedding can be a daunting prospect. When I got married eight years ago, I was broke and out of shape (still am)  My fiancé and I made our A-List of guests, shopped for invitations, checked out some local venues and that's when it hit me. I couldn't afford some fairy tale wedding. It was looking more like I'd be wearing a cigar band around my finger and the reception would be at a White Castle.
RELAX
Uncharacteristically, I had a bridezilla break down. You know, one of those sobbing fits punctuated with unintelligible screaming.  I started to choke and wondered why? Just why? Why is this happening to me? After a while, I couldn't even remember why I was crying. Then I had big raccoon eyes that made me look pathetic. Next, I reached for the bag of Cape Cod potato chips and hated myself for being self-destructive, eating every last chip and licking the bag. And then I watched the movie Marley and Me (okay, I lied … Marley and Me came out in 2008. I watched some other sad movie) and LOST IT … I could fill three martini glasses with my tears (or maybe that was vodka)! After punching a pillow ten times an amazing thing happened…
I got a proper slap in the face. End of drama! When I calmed down, here's what I learned: Use everyone you know, including yourself.
My fiancée proposed to me in the shower. It was one of those drop the soap moments. Lacking the romantic setting I'd envisioned, I figured that once I wrapped myself up in my luxury (a Costco terry cloth robe), I'd walk into the living room and it would be filled with the ambiance I expected. There would be candlelight, rose petals and a small jazz quartet playing our favorite songs. Chilled champagne would invite me to the moment I'd been waiting for. An engagement ring would sparkle like sunken treasure at the bottom of my crystal glass. Not the case. Where was the ring I wondered? So I asked.
"Rings are a cliché, I was thinking of planting a tree for us," said my about to be ex who then spit out a giant goober and blew his nose into the shower.
GET YOUR BLING ON!
A tree … that wasn't going to work. Thanks, but no gracias. I realize not everyone gets a classically elegant ring with, "a cushion modified brilliant diamond encircled by a double row of bead-set diamonds" in a blue Tiffany box (not unless you're Callista Gingrich). However, I'm still a little old-fashioned. I  was fortunate to inherit my great grandmother's engagement ring. Small, but somewhat noteworthy. About the size of a petite diamond earring, it's  hardly "a rock" but it is sentimental and much lighter than a tree. Recycling old jewelry is a super economic trick to getting a beautiful ring and not spending nine months of pay. Jewelers use state of the art design programs to create something new from any old trinket, even a cuff link is fair game.
GET OUT OF TOWN!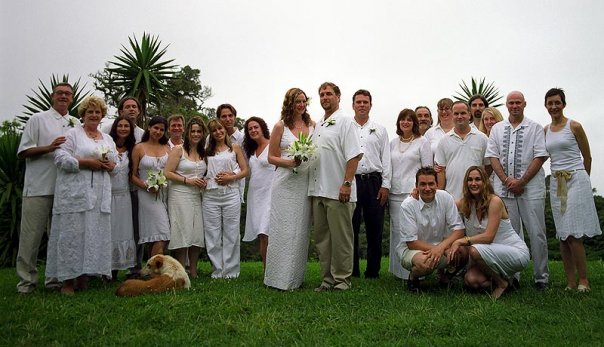 We decided to make the event manageable and elope. Our destination: Costa Rica. To our surprise, when we announced the plan, friends and family urged us to include them on the trip. I wondered how we could afford even a small dinner party for our  posse of swells? The booze bill alone could exceed our Boone's Farm budget. We knew that to make our wedding a success, we had to call in favors. It was time to get the ball rolling and bring out the naked pictures.
My husband is great friends with a guy who owns a resort in Monte Verde, Costa Rica. As a wedding gift, his buddy promised to charge us only for the cost of food and liquor expenses incurred during the rehearsal dinner and reception. Funny what a photo of his friend hanging out with a midget in a fishnet stocking jumpsuit can provide. GAME ON!
CREATE A PAPER TRAIL
It was time to send invitations. I highly recommend that you save tons of money and make your own cards. It's easy. If you are not confident about your design skills, try a pre-made kit, like those available at Target.
Prior to meeting my Price Charming, I had to kiss a fair share of repugnant frogs. My husband, a wildlife photographer, has spent a lot of time in Costa Rica the Amazon. For a while, he was well-known for photos of rare frogs. Ironic, because the year before meeting my hubby I went out on several dates where I was gifted a frog. At a Mardi Gras party, my date put a frog-beaded necklace around my neck. Another suitor gave me a crystal frog. We decided to use the frog reference on our invitations.
On one side of the invitation was a photo that Greg shot of the rain forest, At the bottom of a tree, we photoshopped a photo of two toy frogs who were obviously in love (awww). The reverse side had a brief shout out of: Greg Neise and Erin Butler to wed June 23, in Costa Rica. For details check out our web site.
Greg built a site outlining all the details, tickets, accommodations and a fantastic itinerary (one of his former jobs was as a travel agent specializing in Costa Rica). We included links to a variety of activities and amusements. The site was filled with his amazing photos of the wedding site.
WARDROBE PLEASE: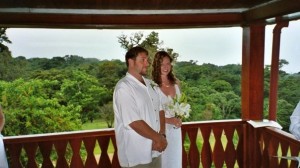 I bought my dress at Nieman-Marcus, on sale in the formal attire section—Nichole Miller gown that was just over $100. It looks like a "wedding" dress, but I knew I couldn't set foot in some bridal boutique without spending thousands of dollars. Seems kind of silly to blow that kind of coin on a dress that gets worn once and in the end, stained with wine. I asked that everyone going to the wedding wear white, and in my mind, they were all my attendants. Friends and family were spending money to join us in Costa Rica, I hardly felt it would be fair for me to tack on the cost of bridesmaids dresses and suits for the men.
OWN IT
Figure out what's important. For me, it was food, champagne, and atmosphere.
Rather than host some huge blow-out wedding, have a small group of intimate friends and very close relatives celebrate your day at a favorite restaurant. Who wants a dried up chicken breast and rice pilaf? Typically, it will run 100 to 300 dollars a head to have a mundane wedding with suckie food. You can work a deal out with the restaurant manager and usually get some perks added … maybe even BYOB. If you combine the ceremony and reception space, you'll save even more.
Or hire someone to cook. We had a grill master man-up lobster tails and steaks (lobster and steak is remarkably affordable in Costa Rica). A buffet table filled with salads and veggie sides sealed the meal. To this day, my friends still talk about how great dinner was.
ROLL WITH IT!
It will be perfect if you don't expect it to be. My mother, a talented floral designer was in charge of floral arrangements for the wedding. A van with our anticipated flowers rolled up to the lodge. The Spanish speaking men opened the door to unveil buckets filled with bubble gum pink carnations. No joke. My mother looked at me and with confidence said, "Mama will fix!"
She and friend Marsha disappeared in the jungle and returned with beautiful flowers and giant leaves that they used as plate chargers. My mom bought bags of limes which she incorporated with the flowers in vases. We also brought with simple, white table clothes from home. The trick is to make them extra long and puddle the excess fabric on the floor. Trés chic!
The Chicago Tribune actually ran a feature story about our wedding and they had no idea about our shoestring budget. The party went off without a hitch and appeared to be lavish. Total cost incurred, just over $2,000. I soon realized that the problem too many couples have with planning a wedding is taking it too seriously. Use my life raft tips and don't go into debt. Chill-lax and feel the love! I still do to this day.
That's not all folks!
In addition, my best friend photographed the wedding, another shot video and performed a dance. We created a play list of our favorite music to blast at the reception. When I walked down the aisle, everyone sang, "Here comes the bride." My friend Mina was my flower girl, because her name means "flower" in her native tongue. Wow, and after writing this I'm getting a little choked up. Gotta go find me some tissues. xo.