Let's get real, it's not always the thought that counts. A bad gift is sometimes worse than nothing at all. It can leave the recipient wondering what about this so called present said "me?" One of my wedding gifts was a whimsical candle display that resembled a Ferris wheel. It had hearts all over and best of all, it was tarnished. The box was dented from falling off a truck. I was like, "Thanks for your piece of shit gift."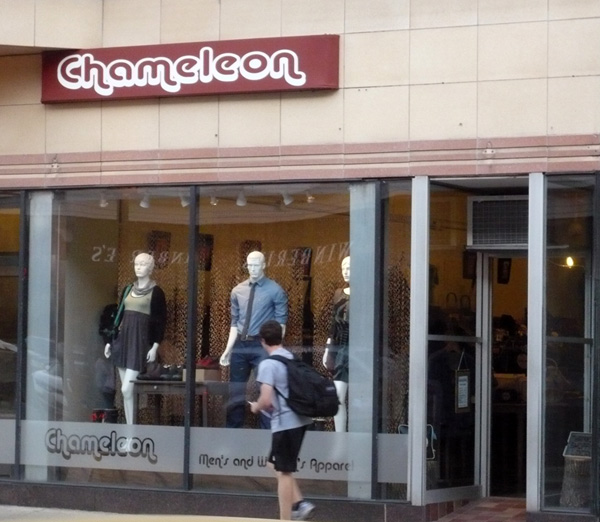 My husband Greg, on the other hand, always selects the perfect "little something". My man knows what I want, even when I don't know myself. That, my friends, is talent … and he is so hired to be my hubby.
Nothing is worse than opening up a wrapped box that's hard to understand, like a dick in a box moment … one of those, "What about this gift is me? This is Christmas for cry-eye and my parents are watching. Should I laugh? Throw a vase at the wall?"
The love of my life,  has a secret weapon and I'm about to blab! Let's give it up for guys with taste. I love knowing that I will never be disappointed when my devoted husband shops at Chameleon in Oak Park, IL. This is a store that feels very SoHo, and a departure from the typical Frank Lloyd Wright t-shirt souvenir shop in the area.
The owner, Nick, is an absolute doll, a terrific host, and stocks the store with a whirlwind of unique designers. He carries everything that is having an "it" moment. I love the derby style Goorin Bros hat and gauze bat sleeved BB DAKOTA dress that I got for my birthday. I get non-stop compliments when I wear them. Last year, Greg gifted me with a tunic that looks like a Jackson Pollack canvas. He's also spoiled me with a gold Paul Frank wallet and an asymmetrical sweater … all from Chameleon.
My outdoorsy, bearded beau feels comfortable watching football, birdwatching and reading Star Wars books. Shopping makes him sweaty and eager to drink beers. Frankly, it's not his forte, but with owner Nick, he feels at ease. Now when Greg presents me with a gift he says, "Your gonna like this. I guarantee it."
Typically, a boutique of this caliber is owned by some stuck up beeotch, who will:
Look you up and down and ignore your ass.
Talk to her "associates" about some jerk who was in the store.
Act surprised if you buy something,
Or, say something like, "That's great!" As though you don't know what "great" is, and need someone to boss you into greatness.
I'm a boutique shopper, but I'm not a fan of those places. To be honest, I usually find the same stuff at Loehmann's where I can try on clothes in a room full of women who are always honest and cool about saying, "You should get that!" Okay, I will, because this audience isn't lying.
Neither is Nick. So I stopped by to thank him for helping my hubby and decided to celebrate his boutique with beers and show off his digs. You can also check them out on Facebook…