Maybe it's the Boone's Farm slushie talking, but when I entertain, It's not unusual for my compadres to have a little pow-wow and and try to talk me into opening a restaurant. I let them down easy every time and tell them there's too much competition now that Culver's is right across the street from my wine garden. Can you say, 'BUTTER BURGERS?" Nuff said. Sorry folks, but I refuse  create a restaurant empire! Now that I've shattered my friends dreams, I feel  a need to give away some treasured tips about how to entertain swell, well, and best of all, cheap!
HERE ARE THE RULES:
1. NEVER SHOP AT JEWEL…unless frozen pizzas are on sale
2. Shop for ingredients that are at their season's peak. I once paid two friken' dollars for an apple at Jewel because they were not in season. The cashier said, "Well, gas is expensive!" Whatever. You can fit  a lot of apples in a truck lady..I wasn't born yesterday.
3. Buy what is on sale. Design your menu around bargain beef, chicken, or whatever.
4. Pork is "in". Super cheap, so run with the trend.  Even vegans hide in the bathroom to eat bacon. They think no one knows, but I'm on to this. I'm like the all knowing bacon goddess.
5. Start to collect cloth napkins and table cloths. I have a sick collection. Comes in handy.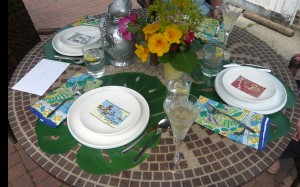 6. Simple white plates work as a mainstay, but layer your table setting with cool appetizer plates, or dessert plates. I love CB2 and Anthropologie for fun dining accessories.
7. Use ribbons! They make a statement tied around a vase and around napkins.
8. Put some flowers or a succulent plant on the table, please! We're slacky, not trailer-trash.
8. Put a lottery ticket under everyone's plate (the fun scratch-off kind). I once had a friend win $60. Bastard.
9. Write your menu on a chalkboard, that way when guests arrive, they know if they need to make a detour to Culver's. Word to the wise: bacon.
10. Have a cheese plate ready for guests when they arrive. Include a variety of cheeses that you will find in the refrigerated section of a deli…sorry, this is no time for Velveeta. Always include a fig jam and fancy mustard. The only exception to not having a cheese plate is if you are serving Mexican, but I'm poo-pooing that because avocados are way too expensive this year. Screw guacamole, or it will screw you!
11. Set up a do-it-yourself bar, but have a signature drink ready. The whole mixology thing is big.
12. Know your guests' likes and icks. At my last party, I watched a guest eat an entire jar of pickles and then drink the pickle juice. Going forward, I'll have plenty of pickles on hand for this guy.
13. If one of your guests is a vegan, don't dumb it down and serve a veggie burger. Show some class and make a salad with meat-free baco-bits.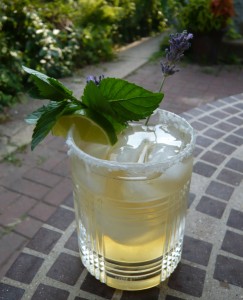 Hey, where the party at? Where that Bacardi at?
Now, let's start with a drink! The TE CUBANO, created by me.
Wake up and make sun tea (fill a jug with water, add four of your favorite tea bags and let brew in the sun).
Combine:
1 shot rum
half glass of sun tea
half glass of lemonade
sugar to taste
lemon, mint and lavender garnish
plenty of ice.
Here's a simple, cheap and elegant ceviche recipe:
2 pounds of shrimp
1 large red onion
3 medium tomatoes
3 cups of fresh orange juice (preferably use sour oranges or you can use Tropicana pure natural orange juice with no pulp)
1 cup of lemon juice (fresh squeezed lemons)
3 tablespoons of ketchup
1 tablespoon of mustard
1 tablespoon of fresh chopped cilantro or parsley
2 tablespoons of vegetable oil
Salt and pepper to taste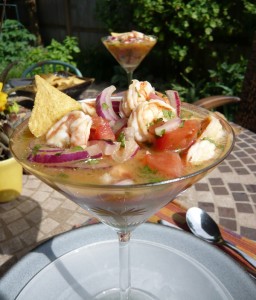 Boil water salt and pepper in a pan. After it boils, add shrimp. Let it boil for 3 minutes (or until shrimp becomes lightly red) and remove from heat. Pour out water and let shrimp cool. Don't let them overcook! If they are overcooked, the shrimp will be a little chewy, but still delicious.
Cut the onion into long thing strips -julienne style-. Place them in a bowl with water and 2 tablespoons of salt and let it settle for 10 minutes. Then gently rinse with water. This will remove the bitter bite from the onion and make it sweeter.
Cut tomatoes into small squares.
In a large bowl, mix the onion, tomatoes, orange and lemon juice, ketchup, mustard, cilantro (or parsley), oil, salt and pepper. Once the shrimp has cooled, add shrimp and mix.