I was seven years old when my parents dumped me off at Woodfield Mall.  This was a childhood dream come true, a pocket full of money, stores galore…including one that sold nothing but cookies and best of all absolutely no mature supervision. Mind you, this is way before the days of pedophiles and  my parents trusted me. They were responsible parents releasing I was better left to my own folly while they smoked pot and made macramé curtains. I marched into that mall with one thought in mind, to buy a white stag ski jacket. At this point in life, I envisioned growing up and becoming a professional skier, but something happened on this day that changed this goal and I will never forget.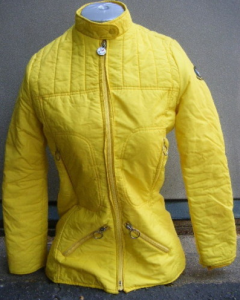 I walked into the mall Gallery, a store devoted to selling "fine" art. I looked around and nearly gaged from the sappy paintings of ships, puppies, kittens, and worst of all, fruit!  A man approached me. He was the "curator." I remember he looked stinky and had a bad comb over. I winced at his suit that wasn't properly tailored and probably had been around since WWII. He really should have been wearing a beret, striped shirt, smoking a cigarette and eating bread. I had just started to shop and already, I was so let down. Then, this terrible man wanted to kick me out.
Unbelievable! He should have been offering me a glass of wine and pointing out his favorite art because I had more money in my pocket on that day than I have in my checking account now. Who was this guy, not to take ME seriously? I grew up surrounded by artists. Real people with angst and problems that made them drink like crazy and produce genius on canvas….not some Virgin Mary!  This was no gallery!
I left and decided to hang out at Johns Garage and eat French onion soup instead of buying the White Stag ski jacket. I really needed to think. I knew that the Olympics where going to be in a hurt of pain when I would have my people contact them and tell them the bad news. I was not going to be a professional skier after all. I had a higher calling from the Virgin Mary at the so called, "Gallery."
This world was lacking style.  I needed to pimp slap the people with bad taste and enlighten them to the good life. It made my stomach hurt so bad just thinking of the fools decorating their homes with paintings of puppy dogs. It really bothered me that the curator looked like a pedophile.  This world needed me to powder it's nose, adjust it's bra strap and make it feel a lot better.
It starts with style!
Truth be told, this story is  a pack of lies. Now for the truth. Get ready to yawn. I started to ski when I was about seven years old.  I hung out at Villa Olivia, a glorified bunny hill that could make any spaz confident. Although I fancy the thought of being an athlete, more for the bling aspect, I am clearly not qualified.  Most important to add to my confession, I am an only child and my parents have always treated me like precious gold.  I grew up on a short leash, and with lots of discipline.
Now it's time for revenge.